The military intervention started with large-scale air strikes on 26 March 2015, in which about 170 fighter planes participated. The contribution of individual countries to the coalition airforce was as follows.1
Saudi Arabia: 100 aircraft
mix of F-15S, Eurofighter Typhoon and Tornado
United Arab Emirates: 30 aircraft
mix of F-16 and Mirage 2000
Kuwait: 4 aircraft
F/A-18A
Qatar: 4 aircraft
Mirage 2000
The first phase of the air campaign lasted one month and mainly involved military targets. The coalition gained air superiority via the destruction of air bases and air defense installations. They bombed Houthi troop concentrations and Houthi leadership, as well as bases of the Houthi-allied Yemeni army. More controversially, civilian ports and airports were destroyed in an attempt to isolate the Houthi forces logistically. This initial air campaign destroyed a large part of Yemeni military installations, including the majority of the Yemeni airforce and air defense network.
After a month the air operation had mostly run out of military targets and the coalition broadened its targets. It bombed Yemeni military bases and locations of Saleh-associated leadership to deter their defection to or alignment with the Houthis. They also began to bomb roads, bridges and gas stations to stop the Houthi advance from the interior towards Aden and the coastal areas. The destruction of infrastructure had not much impact on the Houthi advance, but had a very negative impact on the passage of goods and the availability of vital supplies. Beginning in May, the coalition started retaliatory and coercive operations, which included civilian targets in Saada province. As not all missiles got destroyed and the Houthi's started to use them for retaliation against Saudi Arabia, the search for SCUDs and missiles became a priority as well.2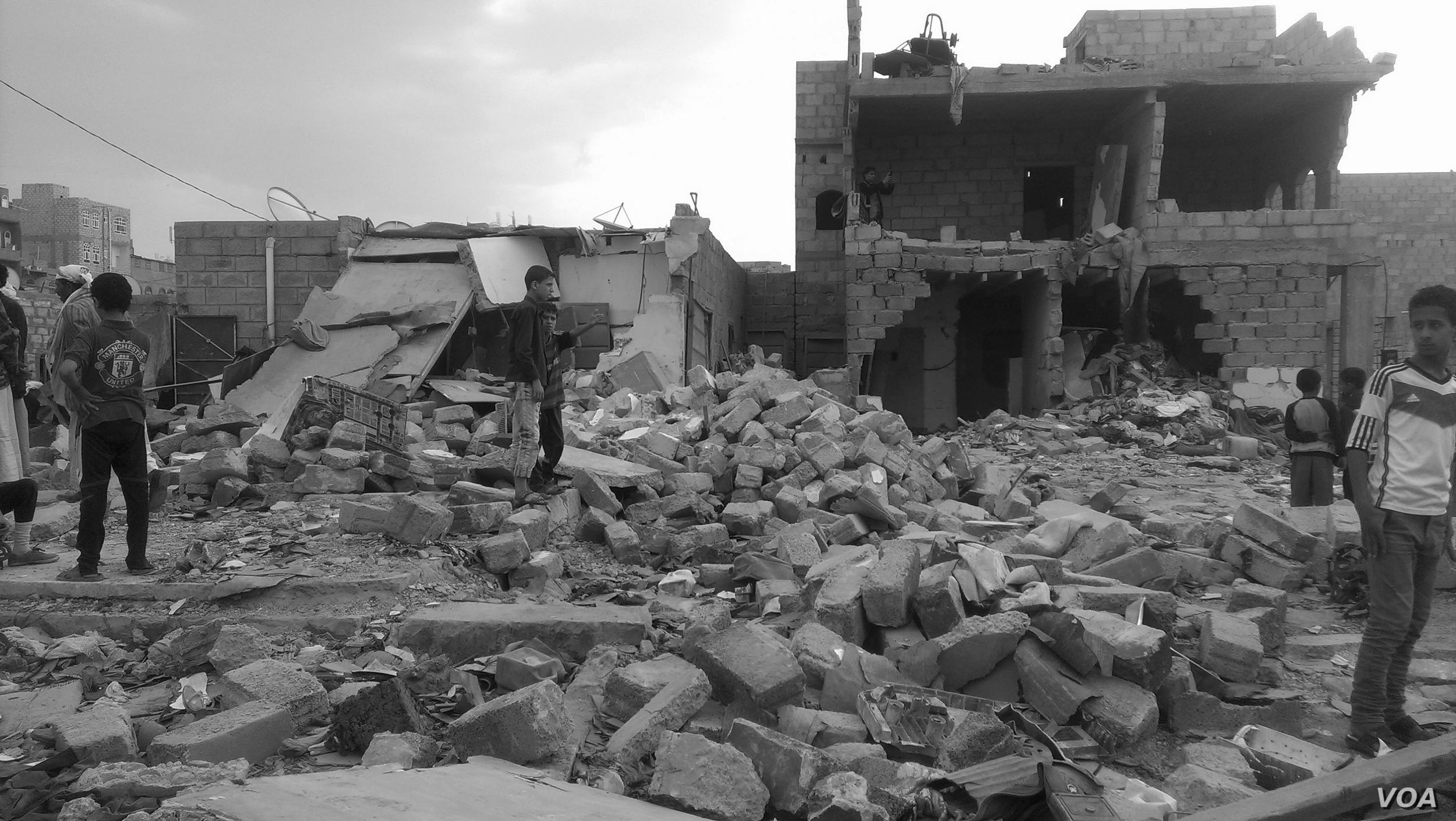 image: Almigdad Mojalli/VOA
Local human rights organisations counted at least 2,724 airstrikes between March 26 and June 11.3 The conduct of these air strikes was done in an rapidly escalating indiscriminate manner and caused a large amount of civilian casualties. The Saudi coalition declared on 8 May the cities Saada and Marran as a whole to be military targets and ordered the population "to leave the areas under Houthi control" the same day.4 Treating whole cities or neighbourhoods as a single military target is a clear violation of IHL. Several human rights organisations, investigating air strikes in Saada and elsewhere in Yemen, have documented air strikes with munition with wide area impact in populated areas and air strikes against civilian targets with no nearby military target and no clear military objective.5 The pattern of targets suggests that the escalating humanitarian cost for the civilian population is not just a consequence of the war, but a deliberate strategy intended to destabilize areas under Houthi control. This suspicion is caused by the large-scale targeting of fuel distribution, which could be dual use, but also food production and distribution or water supply installations.6
This air war has continued up until today.
The Yemen Data project recorded roughly 19511 air raids in the first 4 years of military intervention, or approximately 400 air raids per month, with a peak of 921 air raids in September 2015. Casualties include at least 8000 civilian deaths and 9000 injured civilians. The Yemen Data project counts incidents or air raids, defined as 'all air strikes on a single location in an hour', because the actual number of air strikes is difficult to verify. Its unverified count of single air strikes is 45563.7
The French intelligence services mention 24000 counted air raids, of which 6000 in 2018, and 150000 missions in total (including air strikes, but also reconnaissance, supply and transport).8 This information leaked in a note on 26 september 2018.
Military materiel from European origin
Coalition airstrikes are conducted by fighter aircraft manufactured in Europe or the United States (except for 3 Sudanese Sukhoi-24 fighters of Russian origin). They are supported by tanker aircraft and carry munitions that are made in Europe or the United States. The Saudi air force is estimated to launch 120 sorties daily. They conduct airstrikes with F-15s, (operating from Khamis Mushait and Taïf), Eurofighter Typhoon (operating from Khamis Mushait, al-Kharj, and Taïf) and Tornado fighter planes (operating from the King Abdulaziz airbase in Dhahran). The Emirati air force operates F-16s from Taïf (Saudi Arabia) and Mirage 2000-9s from Assab in Eritrea. The other coalition members' fighter jets also operate from Saudi bases. Fighter aircraft are supported by tanker planes, including the Saudi and Emirati Airbus 330 MRTT, likely operating from Jeddah.9
Eurofighter Typhoon
Saudi Arabia bought 72 Eurofighter Typhoon fighter aircraft (Tranche 2 and 3), which were delivered between 2009 and 2017. These aircraft played an important role in the bombing campaign in Yemen. Final assembly and delivery was done by BAE Systems in the UK, whose government granted the export licence to Saudi Arabia. The manufacturing of these aircraft is done by a consortium formed by Airbus, BAE Systems and Leonardo and is managed through the joint company Eurofighter Jagdflugzeug GmbH. However, the supply chain for this aircraft extends throughout Europe.
Tornado
Saudi Arabia bought 96 Tornado IDS, of which 81 are still in service, and 24 Tornado ADV, which were retired in 2006 and replaced by the Eurofighter Typhoon. Saudi Arabia has been the only buyer outside the original consortium countries Germany, Italy and the UK. Primarily designed as a bomber aircraft, the Tornado IDS has played an important role in bombing operations in Yemen. One of these Tornados crashed in Yemen10, according to the Houthi shot down, according to Saudi Arabia due to technical problems.
Panavia Aircraft GmbH is the main contractor for the Tornado, which is jointly owned by a consortium of Airbus Defence and Space (42.5%), BAE Systems (42.5%), and Leonardo (15%). The RB199 jet engines are built by a similar consortium through Turbo-Union Limited, jointly owned by Rolls-Royce (40%), MTU Aero Engines (40%), Avio (20%).11
A BAE publication states: "An analysis of worksharing across some 325 specific equipments indicates that 175 contracts went to UK suppliers, 126 to German companies, seventeen to the Italians and seven to other nations".12
Mirage 2000-9
The UAE is active in the bombing campaign with its F-16s, but also with its 62 Mirage 2000-9. One of these aircraft crashed in Yemen in 2016.13
The Mirage 2000-9 is a French bomber aircraft from a similar generation as the Tornado and the F-16. It was built by Dassault Aviation, its supply chain is mostly French.
A330 MRTT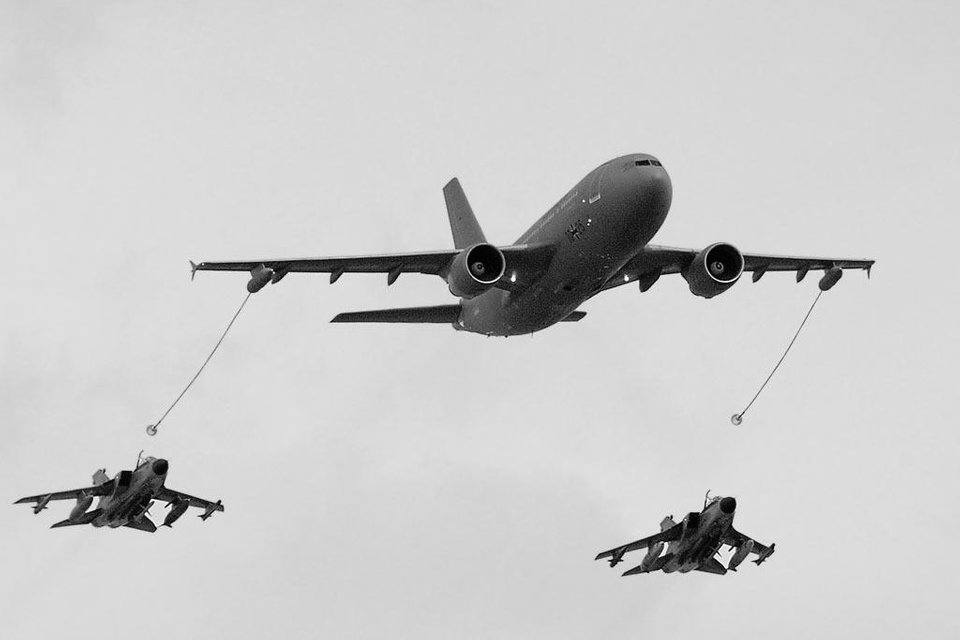 image: EUarms
Bombardment campaigns are supported by tanker aircraft, which are needed to increase the combat radius of fighter aircraft. Airbus produces a variant of the civilian A330 for this purpose, the A330MRTT or Airbus A330 Multi Role Tanker Transport. The Saudi tanker fleet includes 6 of these aircraft, as well as 9 KC-130 Hercules and 7 KE-3A Boeing aircraft. The UAE has acquired 3 A330MRTT.
The military conversion of the A330 is done in Spain, whose government grants the export licenses to Saudi Arabia and UAE. Final assembly of the A330, before this conversion, occurs in Toulouse, France. The Airbus supply chain stretches across Europe.
Other material and support
Bombs and missiles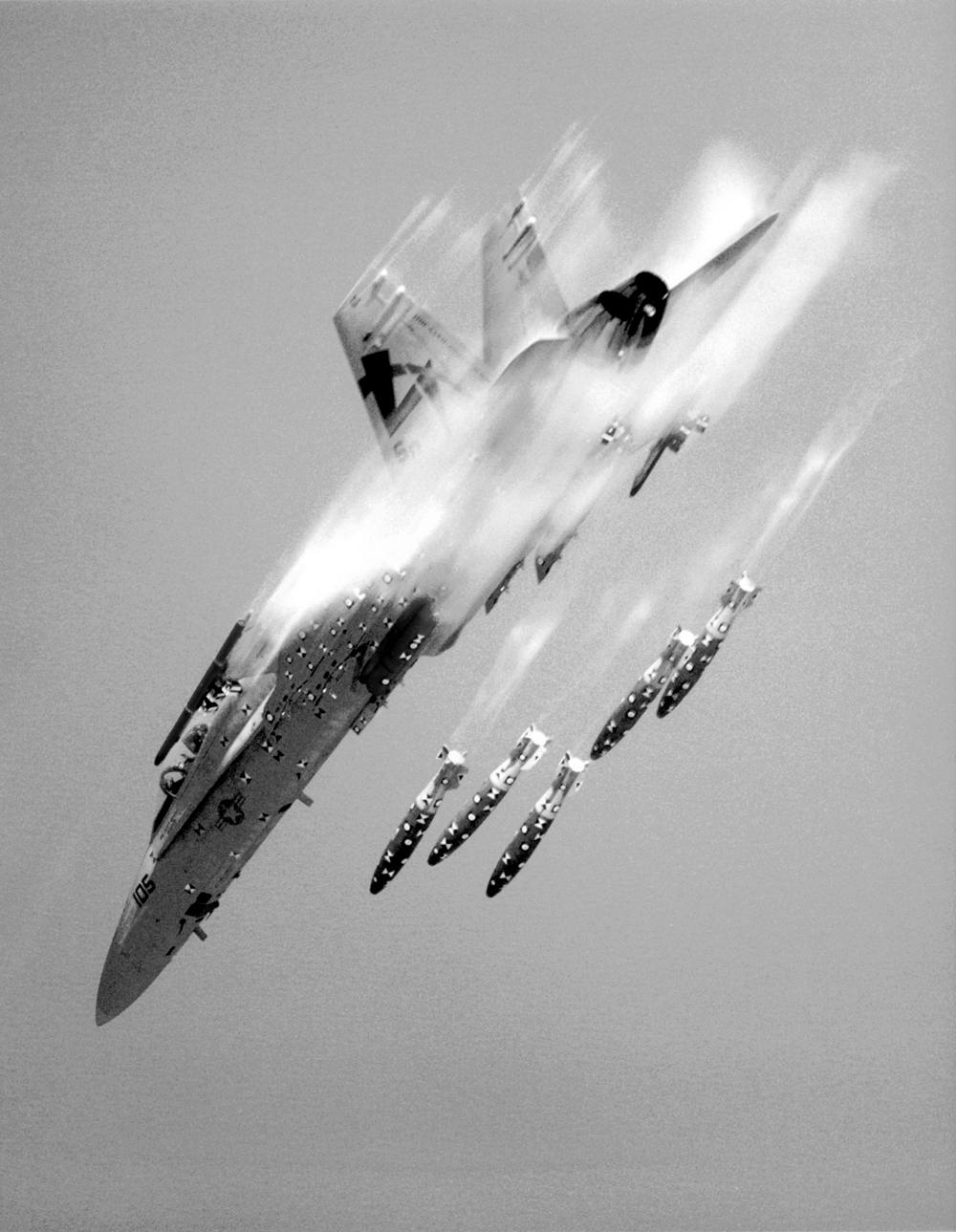 image: Vernon Pugh
Europe has exported missiles and bombs (and their associated guidance systems) to members of the Saudi Coalition, who used said munitions in the Yemen conflict.
A large amount of sales of Mk81, Mk82, MK83 and Mk84 bombs made by RWM Italy to Saudi Arabia and the UAE and their use in Yemen has been documented.14 Raytheon produces Paveway guiding systems in the UK, which are combined with such Mk80 bombs. Paveway IV systems are sold to Saudi Arabia and the UAE.15 Saudi Eurofighter and Tornados and the UAE Mirages 2000 are equipped with the Damocles laser guiding system, made by Thales (FR), to deal with these precision bombs. Saudi Arabia also has used in Yemen BL-755 cluster munition, designed to be dropped from Tornado fighter jets and made by Hunting Engineering Ltd (currently Lockheed Martin UK Ampthill Ltd (UK)).16
Both Saudi Arabia and the UAE use air-launched Storm Shadow cruise missiles produced by MBDA. Saudi Arabia uses Brimstone cruise missiles made by MBDA in the UK as well. The use of Hakim A missiles, made by GEC-Marconi Dynamics (UK, now part of MBDA), by UAE Mirage 2000 aircraft has also been documented.17
Surveillance
European firms have bolstered the surveillance capabilities of the Saudi-led coalition with airborne-radar systems and drones.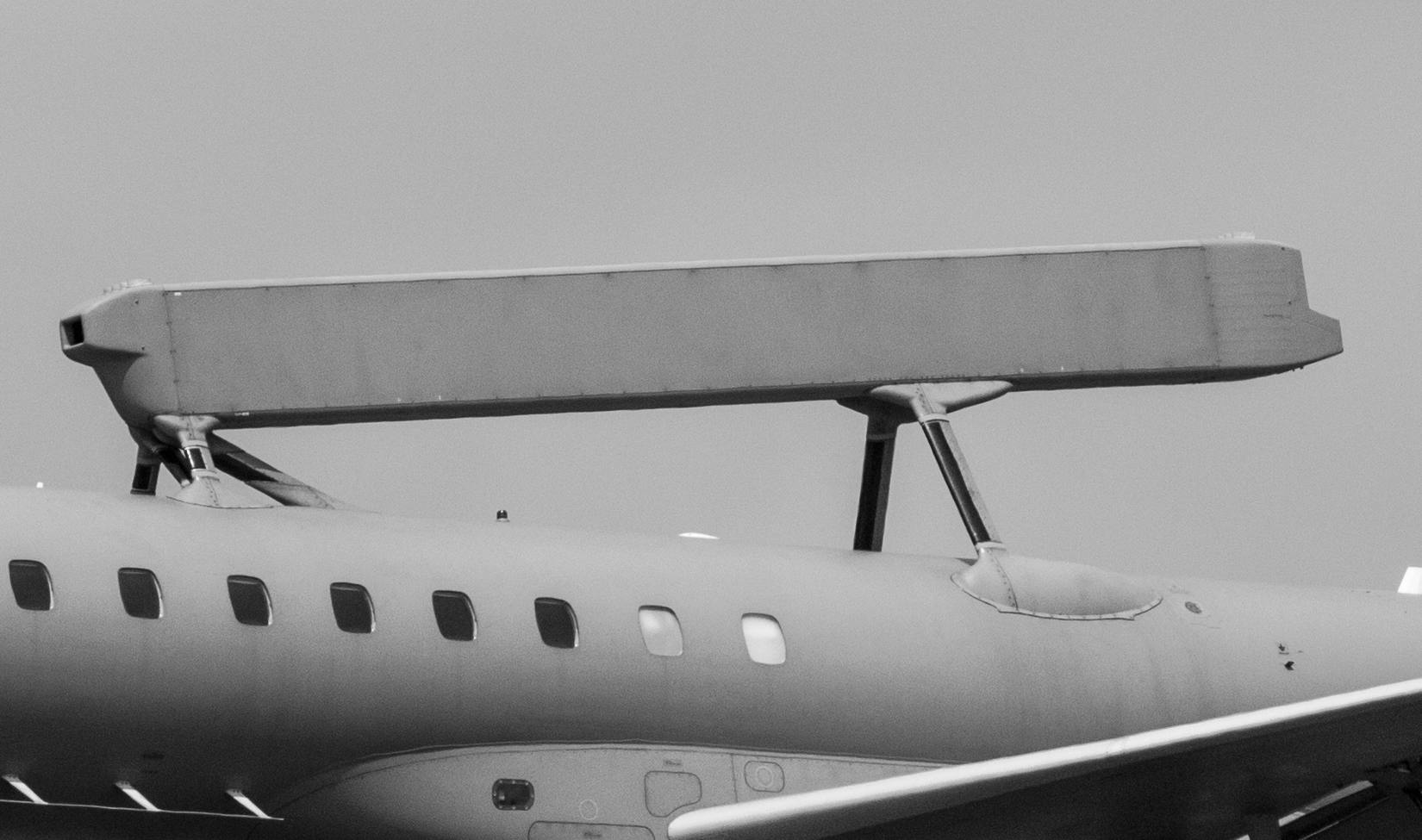 image: Steve Lynes [CC BY 2.0]
Saudi Arabia purchased 2 and the UAE 3 Erieye Airborne Early Warning & Control aircraft. Saudi Arabia uses the Saab 2000 as carrier. The UAE bought the GlobalEye system, which combines Bombardier Global Express-6000 aircraft from Canada with the Erieye radar system from SAAB. Other systems are integrated like the Seaspray MP aircraft radar (built by SELEX, now Leonardo, in the UK). It uses BR-710 motors made by BMW Rolls-Royce AeroEngines GmbH (DE).
Both countries use a range of surveillance drones in their military operations. The UAE purchased the S-100 Camcopter from Schiebel (AT), which was further developed locally into the Al-Sber-system. This drone has been operated primarily from UAE ships, especially the al-Quwaisat amphibious landing craft.18 European drones acquired by Saudi Arabia are the Luna drones made by EMT (DE)19, Sperwer/SDTI made by Safran (FR)20, the Tracker or DRAC mini drone made by Airbus (FR)21.
Air support for land operations
The Saudis and Emiratis employ several rotary-wing aircraft to support land operations. The AS-532 A2 Cougar, made by Airbus Helicopters, is used by the Saudi Army as attack and transport helicopter and is operating from the Khamis Mushait and Jizan bases in Saudi Arabia.22 The UAE uses the older AS332F Super Puma version of the same helicopter. The AS565N Panther and the older version AS365N Dauphin, both made by Airbus Helicopters, are operated from Saudi Navy ships and are also used by the UAE. The UAE also has other older French and Italian helicopters, but its use in the Yemen war is not known.
Footnotes
Military Balance 2016, chapter 7, IISS; Military Balance 2017, chapter 7, IISS; Military Balance 2018, chapter 7, IISS
https://www.washingtoninstitute.org/policy-analysis/view/the-saudi-uae-war-effort-in-yemen-part-2-the-air-campaign
https://www.hrw.org/report/2015/06/30/targeting-saada/unlawful-coalition-airstrikes-saada-city-yemen
Brig. Gen. Al-Assiri, quoted in https://www.hrw.org/report/2015/06/30/targeting-saada/unlawful-coalition-airstrikes-saada-city-yemen
HRW, Targeting Saada, https://www.hrw.org/report/2015/06/30/targeting-saada/unlawful-coalition-airstrikes-saada-city-yemen;
AI, 'Nowhere safe for civilians': Airstrikes and ground attacks in Yemen, https://www.amnesty.org/en/documents/mde31/2291/2015/en/;
https://www.amnesty.org/en/latest/news/2015/07/yemen-airstrike-analysis-shows-saudi-arabia-killed-scores-of-civilians/
http://yemendataproject.org, figures of 26 March 2019.
https://made-in-france.disclose.ngo/en/chapter/yemen-papers/
French intelligence services DRM, note 'Yémen – Situation sécuritaire', 25 September 2018, on https://made-in-france.disclose.ngo/en/documents.
https://euarms.com/weapon/3aGvI1bbIBIp6xhQLd3jSR;
https://www.rafmuseum.org.uk/documents/Research/RAF-Historical-Society-Journals/Journal-27A-Seminar-Birth-of-Tornado.pdf
http://www.leparisien.fr/international/un-mirage-des-emirats-s-ecrase-au-yemen-14-03-2016-5625505.php
https://www.ilpost.it/2015/06/26/yemen-bombe-inchiesta-italia/;
https://www.nytimes.com/video/world/middleeast/100000005254317/civilian-deaths-yemen-italian-bombs.html
https://www.amnesty.org.uk/press-releases/saudi-arabia-led-coalition-has-used-uk-manufactured-cluster-bombs-yemen-new-evidence
https://www.parliament.uk/business/publications/written-questions-answers-statements/written-question/Commons/2016-09-14/46338;
http://armamentresearch.com/united-arab-emirates-employ-british-hakim-a-series-precision-guided-munitions-in-yemen/;
https://www.amnesty.org.uk/press-releases/uk-made-missile-used-airstrike-ceramics-factory-yemen
French intelligence services DRM, note 'Yémen – Situation sécuritaire', 25 September 2018, on https://made-in-france.disclose.ngo/en/documents.
https://www.janes.com/article/86394/german-made-uav-crashes-in-yemen;
https://euarms.com/weapon/7DaLb5qMJrZNKYUHy2Mo5J
https://www.fidh.org/fr/regions/maghreb-moyen-orient/yemen/nouveaux-indices-de-presence-de-materiel-militaire-francais-au-yemen
https://www.fidh.org/fr/regions/maghreb-moyen-orient/yemen/nouveaux-indices-de-presence-de-materiel-militaire-francais-au-yemen
French intelligence services DRM, note 'Yémen – Situation sécuritaire', 25 September 2018, on https://made-in-france.disclose.ngo/en/documents